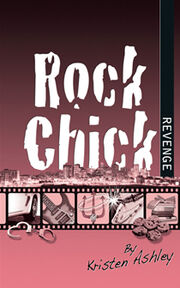 Official Book Blurb
Edit
Ava Barlow hates men. She has reason and she's vowed not only never to get involved with another one again, but also to exact vengeance on her best friend's lying, cheating, rat-bastard husband. Since Luke Stark, Ava's childhood crush, is now a badass mother, she thinks to enlist him, but changes her mind at the last second. Too late. Luke knows she's up to something and he's already seen many a Rock Chick try to fight her own battles without the Hot Bunch stepping in. He's having none of it. She's having none of him. The clash of the Rock Chick and Hot Guy begins, but Luke's got the advantage. He has handcuffs and he's not afraid to use them.
Characters
Edit
Hot Bunch
Edit
Rock Chicks
Edit
The Regulars
Edit
Jerks and Villains
Edit
Guests at Vance and Jules' Wedding
Edit
Ad blocker interference detected!
Wikia is a free-to-use site that makes money from advertising. We have a modified experience for viewers using ad blockers

Wikia is not accessible if you've made further modifications. Remove the custom ad blocker rule(s) and the page will load as expected.