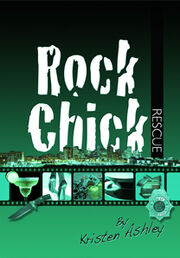 The second book in the Rock Chick Series, Rock Chick Rescue was self-published by Kristen Ashley and stars Jet McAlister and Eddie Chavez.  It's set in Denver and takes place over the course of ??.
Book Description
Edit
Jet McAlister has a secret. Eddie Chavez has the hots for Jet (not to mention Eddie's just plain hot). Jet's got too many problems to cotton on that Eddie's interested. Eddie loses patience when Jet ends her night shift at a strip club with a knife at her throat. Since Eddie's a cop, he figures he can help. Since Jet's used to solving everyone's problems, she doesn't want Eddie's help. The problem is Jet's ne'er-do-well father has got himself in a heap of trouble, and in trying to get him out Jet buys herself even more. So much, unless Eddie can rescue her, it might just get her dead.
Characters
Edit
Jet's Family and friends of the family
Edit
Eddie's Family
Edit
Denver PD
Edit
Smithie's Crew
Edit
Fortnum's Crew
Edit
Nightingale Investigations
Edit
​Arapaho Credit Union
Edit
Plot Synopsis
Edit
Tropes & Themes
Edit
Music, Recipes, and other Pop Culture References
Edit
chocolate caramel layer squares (made of chocolate cake mix, butter, chocolate chips, condensed milk and caramel)
sausage, olive and mushroom cups
Chicken fried steak, mashed potatoes and green beans
Chocolate sheet cake
lemon meringue pie
meatloaf
tamales, spanish rice, refried beans
peanut butter cookies with hershey chocolate square squished in the middle
External Links
Edit
Ad blocker interference detected!
Wikia is a free-to-use site that makes money from advertising. We have a modified experience for viewers using ad blockers

Wikia is not accessible if you've made further modifications. Remove the custom ad blocker rule(s) and the page will load as expected.