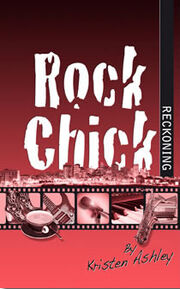 Official Book Blurb
Edit
Stella Gunn is the lead singer and lead guitarist of the Blue Moon Gypsies, and Stella used to be Mace's girl. But Kai "Mace" Mason broke up with her and the loss of him rocked her world. One night, Stella gets a call, late (again), from one of the members of her crazy band. She has to go play clean up (again) and runs into Mace (and a shed load of police) and ends up getting shot. Mace finds he doesn't like it much that his ex-girlfriend got shot right in front of him, but it's worse. A very bad man has thrown down the gauntlet, and all the Rock Chicks are in the firing line. Stella doesn't want Mace to be the one to keep her alive, but she has no choice. Mainly because Mace isn't giving her one.
Characters
Edit
Blue Moon Gypsies and other music industry people
Edit
Nightingale Investigations
Edit
Law Enforcement
Edit
Rock Chicks
Edit
Fortnum's crowd friends and family
Edit
Just at the wedding
Edit
Just in the epilogue
Edit
Ad blocker interference detected!
Wikia is a free-to-use site that makes money from advertising. We have a modified experience for viewers using ad blockers

Wikia is not accessible if you've made further modifications. Remove the custom ad blocker rule(s) and the page will load as expected.