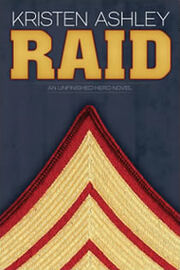 Official Book Blurb
Edit
Hanna Boudreaux has lived in the small town of Willow, Colorado all her life. The great-granddaughter of the town matriarch, she's sweet, cute and quiet. Too quiet.
Hanna has a moment of epiphany when she realizes her crush for forever, Raiden Ulysses Miller, is not ever going to be hers. She sees her life as narrow and decides to do something about it.
Raiden Miller is the town of Willow's local hero. A former marine with the medal to prove his hero status, he comes home, shrouded in mystery. It takes a while but, eventually, Hanna catches his eye.
But after all these years of Raid and Hanna living in the same town, the question is, why? Is Raid interested in Hanna because she's sweet and cute? Or does Raid have something else going on?
Characters
Edit
Hanna's Family & Friends
Edit
Raid's Family
Edit
Other Willowites
Edit
Raid's Crew
Edit
Ad blocker interference detected!
Wikia is a free-to-use site that makes money from advertising. We have a modified experience for viewers using ad blockers

Wikia is not accessible if you've made further modifications. Remove the custom ad blocker rule(s) and the page will load as expected.