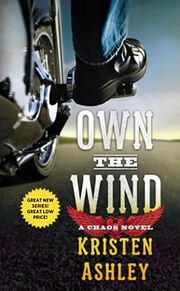 Official Book Blurb
Edit
Tabitha Allen has a not-so-secret crush on Parker "Shy" Cage. Shy thinks he knows the path Tabby's on and it isn't a good one. So he decides to teach her a lesson to lead her to the right path. Unfortunately, he was wrong and his actions wound Tabby, breaking her heart. It's Tabby who then teaches Shy a lesson about casting judgment and Shy Cage learns what it feels like to be invisible. But when tragedy strikes and Tabby's heart is broken again, Shy does what he can in the background to help. Trying to forget her heartbreak, Tabby finds herself in danger. To keep it secret from her biker family, the Chaos Motorcycle Club, she calls Shy to rescue her. But when she lets him back in, she gets much more than she bargained for.
Characters
Edit
Family & Friends
Edit
Ad blocker interference detected!
Wikia is a free-to-use site that makes money from advertising. We have a modified experience for viewers using ad blockers

Wikia is not accessible if you've made further modifications. Remove the custom ad blocker rule(s) and the page will load as expected.