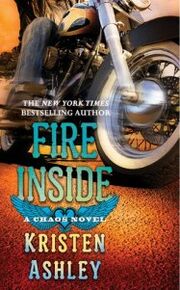 Official Book Blurb
Edit
Lanie Heron isn't looking for love—no surprise, considering her last serious relationship nearly got her killed. So when Lanie propositions Hop Kincaid, all she wants is one wild night with the hot-as-hell biker who patrols with the Chaos Motorcycle Club...
For Hop, Lanie has always been untouchable. She's too polished and too classy for his tastes. But when she gives Hop the once-over with her bedroom eyes and offers him a night in paradise, he can't say no. And he doesn't regret it when he finds that Lanie is the best thing that's ever happened to him—in or out of bed. Now the trick will be to convince her of that.
Ad blocker interference detected!
Wikia is a free-to-use site that makes money from advertising. We have a modified experience for viewers using ad blockers

Wikia is not accessible if you've made further modifications. Remove the custom ad blocker rule(s) and the page will load as expected.